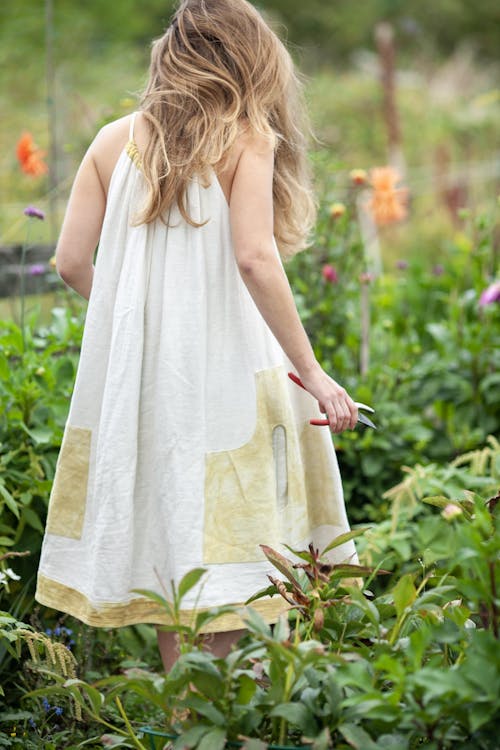 For the Onion Dress, I chose a mixture of yellow and red onion skins which I cooked with some sea salt to strengthen the dye. is drawstring cut is one I have been wearing and making for more than a decade. It is a garment I reach for as soon as the weather starts warming up, and one that I wear until the late stages of autumn with a warm jacket on top, it's one of the most relaxed items I have in my wardrobe – so generous in space between the body and cloth that it almost feels like you are wearing nothing at all. Yet it's very contemporary, a garment I always get compliments on, even from friends who have seen me wearing this cut for years.
For dyeing, I use the outer skin of the onions, which can be stored or frozen if you are hoping to build towards a large dye vat. Yellow, red and shallots all produce stunning shades, ranging from yellow to rusty orange, tan and even a shade that is almost black, depending on your choice of mordant. Onions react well with other natural dye agents
The linen I used for the Onion Dress photographed is an incredibly dense and coarse antique linen sheet that I purchased on eBay for less than £20 for 4 meters, as it had many imperfections. I used the cloudy onion dye to offset these, leaving the vinegar mordanted fabric in for only a fewhours rather than overnight. I chose to dye only the details of the dress – the large patch pocket, drawstrings and stitch-decorated hem – in order to highlight the beauty of the material. Needless to say, it would also be stunning if dyed completely yellow or rusty orange, though you would need to amass a serious amount of onion skins if working with such heavy and absorbent cloth.
(photo by Julius Honnor)