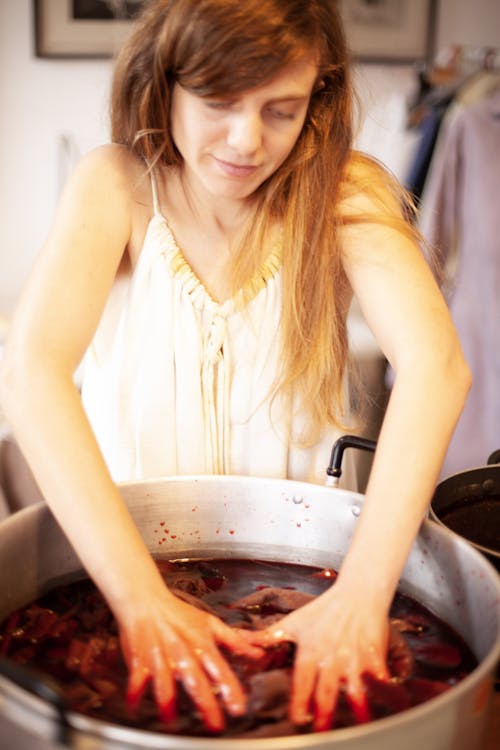 Bella Gonshorovitz is an idiosyncratic creative practitioner whose interests lie in the seams between fashion and nature, art, culture and human behaviour with a strong sustainability focus. She trained originally as a fashion designer and a creative pattern cutter, before studying for a Masters in Applied Psychology in Fashion.
After working for labels such as threeASFOUR, Alexander Wang, Gottex and Gertrude, she established her independent practice in 2012, focusing on made-to-measure fashion and creative collaborations through a prism of sustainability. In 2017 she was a finalist in the Kering Sustainability Awards with a project for Gucci. Later that year she took part in the creation of the open-source online course 'Fashion and Sustainability: Understanding Luxury Fashion in a Changing World' developed by Kering and University of Arts London's Centre for Sustainable Fashion.
Bella started tending her allotment plot in 2018, alongside working on a large-scale fabric collaboration with artist Cathie Pilkington, RA. Creating a unique palette of hand-dyed fabric for the project, she started experimenting with natural dye, connecting the dots between her love of nature and making: gardening, vegan cooking, textiles and garment making.
she has written extensively for publications such as Time Out and Haaretz and is currently working on her debut book, Grow, Cook, Dye, Wear, will be published by DK in April 2022.
Pre-roder Grow, Cook, Dye, Wear
Contact:
bella.gonshorovitz@gmail.com
Represented by John Ash of Pew Literary.