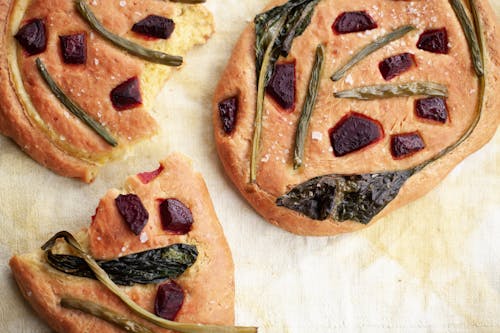 Beetroot focaccia (2 medium or 1 large focaccia):
Beetroot has been used as a food dye for thousands of years, and in the 19th century was even used to colour wine. Nowadays it is sold in powder and used in pink cake icing, but to me it's particularly impressive when it dyes dough. With its pink crust and vegetable embellishment,this focaccia bread makes a charming addition to any dinner party buffet. It requires someplanning ahead, but nothing you won't have encountered before if you've ever attempted tomake your own sourdough bread. The process is a little less complicated than sourdough, yet equally rewarding.
4 beetroots peeled and cut to wedges (save skin and stalks for dyeing)
350ml beetroot cooking water (save rest the of water for dyeing)
500g strong white f lour plus extra for dusting1 tbsp caster sugar
6g dry yeast
2 tsp coarse sea salt plus extra for sprinkling75ml olive oil
6 chard leaves
10 pods of french beans or runner beans
In a small pot, cover the beetroot in water and bring to boil, then simmer until tender. Drain the cooking water into a bowl. Using a hand blender or a food processor, process half of the beetroot into a runny puree. Stir into the beetroot cooking water and set aside to cool.
Blanch the beans and chard by cooking them in boiling water for 2 minutes and immediately transferring to a bowl of cold water. Allow to dry.
In a large bowl, mix together the flour, sugar and yeast. Add 350ml of the cooled beetroot juice and 50ml of olive oil. Using a food mixer dough blade, combine all the ingredients together and mix on a slow setting for 5 minutes (if you don't have a mixer, you can use your hands). Add salt and work for another 5 minutes on low-medium speed, whilst gradually adding the remaining olive oil. Remove to a floured work surface, knead, stretch and fold the dough, then allow to restfor 20 minutes. Form into a ball and transfer into a lightly greased bowl. Cover with a plate and allow to rise overnight in a cool area, or inside the fridge.
Heat the oven to 210C/410F/gas mark 61⁄2. Transfer the dough (which should have risen by 50%) into a f loured work surface and knead. Form a smooth ball (or split into two if opting for a couple of medium breads), then use a rolling pin to create a flat oval shape. Transfer to the baking paper lined oven tray. Decorate with the remaining beetroot wedges, beans and chard,sprinkle generously with coarse sea salt and olive oil. Allow to rise for a further 20 minutes and then bake for 20-25 minutes, or until the bottom is golden brown. Leave to cool on a wire rack, adding another glazing of olive oil if you fancy.