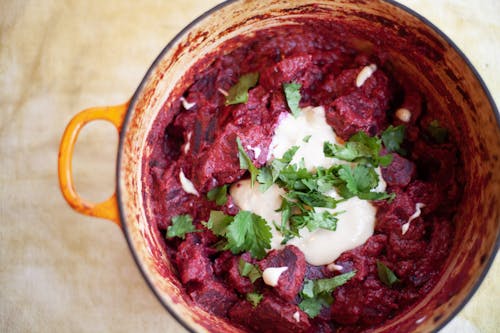 Beetroot curry (serves 6):
Growing up in a region that enjoys a rich selection of fresh produce all year round, I was never exposed to heavy use of spices until I moved to London. It was then that I fell in love with Indian cooking. Stoke Newington Rasa played a big part in that – it was one of the only vegetarian establishments in Hackney in the early 2000s. It still serves beautiful and adventurous dishes foraffordable prices. Predictably, veganising their beetroot curry was one of my rst challenges whenI went plant-based. In my tribute, coconut yoghurt replaces the dairy base, and to make more of a feature of it I have added diced coconut, which gives it more texture and makes the dish as a whole that bit richer.
1.5 tbsp coconut oil
1 onion finely chopped
4 garlic cloves minced or finely chopped
1⁄2 tsp yellow mustard seeds
2 tsp ground cumin + 1⁄2 tsp for serving
1 1⁄2 tsp curry powder
1 tsp ground coriander
2 cardamom pods crushed, pods discarded
3 tbsp nely chopped fresh ginger
1 hot green chilli finely chopped, seeds discarded
10 beetroots peeled and diced to 2cm
(save skins and stalks for dyeing
6 fresh tomatoes chopped
1 tbsp date molasses
1⁄4 a cup of grounded almonds
1⁄4 a cup of diced coconut
3⁄4 cup of coconut yogurt
Tbsp coarse sea salt
1⁄4 cup tahini for serving
Juice of 1⁄2 a lemon
Finely chopped fresh coriander for serving
Melt the coconut oil in a large saucepan on medium heat. Lower the heat, add the onion and cook until translucent (8-10 minutes), carefully stirring to avoid burning. Stir in the garlic and cook for another minute. Introduce the mustard seeds and toast for about a minute, or until they start to pop. Add the rest of the spices, ginger and chilli, gently toss to coat, then add a few tablespoons of water and cook for a couple more minutes.
Add in the beetroot and gently coat with the spices, onion, garlic, ginger and chilli paste. Stir in the tomatoes, date molasses and 2 cups of water or vegan vegetable stock. Bring to a gentle boil, then cover and simmer for 30-40 mins, stirring occasionally and adding liquid as needed. Once the beetroot has gone tender, remove the lid and cook for another 10 minutes, over a medium-low heat.
Lower the heat and stir in the ground almond, diced coconut and coconut yoghurt. Cook for 3more minutes, then remove from heat. Let cool slightly while you prepare the fluffy tahini saucefor serving: In a small bowl, mix the raw tahini paste with the lemon juice, 1⁄2 tsp of cumin 1⁄2
tsp of salt and 4 tbsp of water. Whisk with a fork until the consistency starts to become creamy,gradually adding more water as needed. e nal texture should be silky, yet not runny, a bitlike thick yoghurt. Add a tbsp to each portion and sprinkle with fresh coriander before serving.