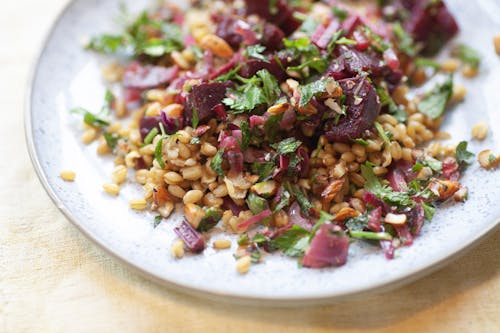 Beetroot and freekeh salad (serves 4):
I am baf f led that freekeh has not gone mainstream yet. Made of green wheat grain, it is high inzinc and magnesium and has the same protein content as quinoa – only with a crisper textureand a nutty-smoky f lavour. It somewhat resembles bulgur wheat but the flavour is more complex, with earthy notes that make it a great companion to beetroot. is salad is simple yet fragrant and filling: the perfect mid-week lunch.
200 grams green wheat freekeh
8 beetroots peeled, sof t boiled and cut to roughly 1cm dices (save skin, stalks and cooking water
for dyeing)
2 red onions peeled and cut to roughly 1cm dices 5 tbsp olive oil
A bunch of fresh parsleynely chopped
A bunch of fresh mintnely chopped
200 grams almonds Juice of 1⁄2 a lemon
11⁄2 tsp coarse sea salt (plus 1 tsp for cooking)
Black pepper
In a medium saucepan, cover the freekeh with 1⁄2 a litre of water, add 1 tsp of salt, stir and bring to boil.
Reduce heat and simmer for 25 minutes, until soft, yet still maintaining a nice chewy consistency. Set aside to cool.
While the freekeh is cooking, spread the almonds evenly in a dry frying pan. Roast on medium heat for 1 or 2 minutes, until toasted, remove from pan. Heat 1 tbsp of olive oil in the same pan, add onions and cook for 3 minutes. Add the beetroot, toss for another 2 minutes, set aside to cool.
In a large bowl, combine the cooled freekeh, beetroot and onions with the fresh herbs. Add the remaining olive oil, lemon juice, salt and black pepper. Mix well, preferably using your hands. Roughly chop the roasted almonds and add them to the salad, mixing gently to combine. Serve at room temperature or straight out of the fridge on hot summer days.